ABOUT US

PROJECT PORTFOLIO

BEST PRACTICES

CONTACT US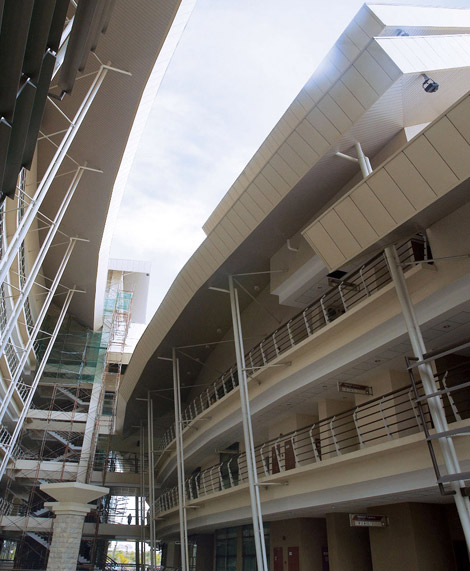 Bangunan Dato' Abdul Rahman Andak
Creating a harmonious work culture
The social and interactive aspects of a traditional kampong lifestyle were re-interpreted in BDARA, two crescent-shaped buildings that house eight government departments. The creative embodiment of a village abode, the complex was designed to encourage human interaction and to inspire a work culture that is more open, collaborative and innovative. Its uniquely distinctive roof, a modern interpretation of the hipped gable roof of Johor, sets it apart from the other buildings in Kota Iskandar.
Even as the architectural facets take advantage of nature's gifts, the materials are selected for their sturdiness and ability to weather the tropical climate. Abundant in greenery that is indigenous to the state and complimented by the soft soothing gurgle of strategically-placed water features, nature is able to exude its calm energy over the buildings' inhabitants.
The result is a cluster of office buildings that are the synergistic embodiment of traditional and modern architecture, and work-life balance.